How to know what hair color suits you? Tips to help your clients
Every professional hairdresser has been asked this question at least once before: "Which hair color would look best on me?" The truth is that helping your clients choose the best hair color to complement their style and bring out their best features can be challenging. You have to take into account not only their personal preferences, but also their age, skin tone, hair type, and more.
Below, we're sharing some helpful tips on how to know what hair color suits you and your clients, so that you can consistently deliver the most flattering colors and shades.
How To Identify Your Client's Natural Hair Color
The first step in deciding which hair color will suit your client best is identifying their natural hair color. Be sure to keep in mind that hair color can naturally change over time due to a number of factors. In general, all hair loses pigment with age, which contributes to the appearance of gray hair. Certain external factors, such as the weather, may also have an impact on hair color over time.
To help make this process easier, you can use the universal color chart to assist you in identifying your client's natural hair color. This chart features 10 different levels, with level 1 being the darkest (pure black) and level 10 being the lightest (light blond).
Remember: If the client's color change is within two levels, the result is likely to be a very flattering, low-maintenance look. On the other hand, if you were to alter their hair color by more than two levels (such as from a level 4 to a level 9), the client will need to visit your salon more often for color touch-ups.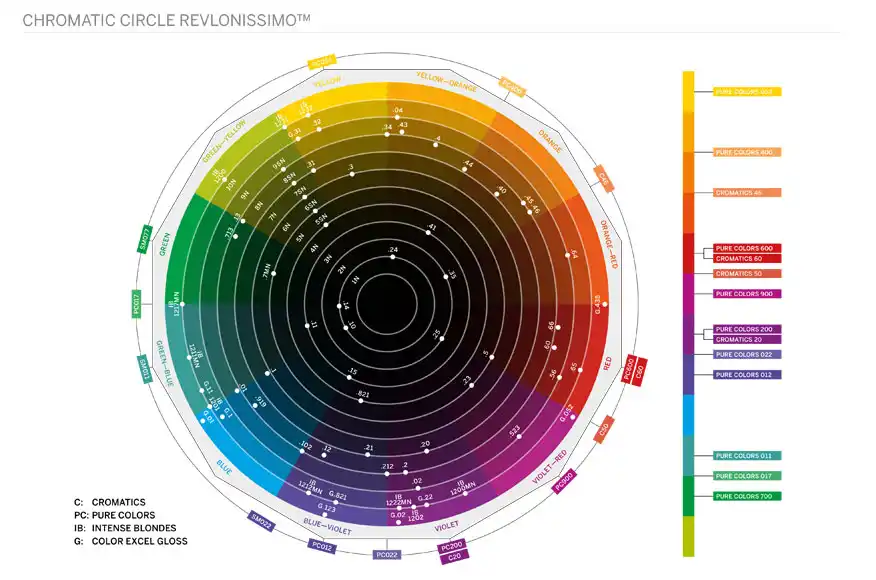 Step 1: Separate a Section of Hair
Take a section of hair from an area other than the forehead or the parting and separate it (if possible) from the rest of the hair.
Step 2: Use Your Color Chart
Next, compare this section of hair with the color chart. Try to always check it against natural light whenever possible and be extra gentle if there is a lot of gray hair.
Step 3: Practice Makes Perfect
With ongoing practice and experience, it will become easier to accurately measure your client's natural hair level. Eventually, you will be able to do it effortlessly using just a quick glance.
Once you have nailed down the natural hair color, you're ready to move on to the next step: deciding which color and shade will work best!
Ver esta publicación en Instagram
What's the Best Hair Color for Each Skin Tone?
When it comes down to it, your client's unique skin tone (and specifically undertone) is one of the key factors in selecting a color that makes them instantly glow when they leave your chair. With the advancement of hair dye products and techniques in today's modern world, there's really no reason why any skin tone can't pull off any hair color they desire.
Most stylists will agree that the secret to know what hair color suits your clients is aligning it with the best option for the skin's undertones (coolness or warmth). Keep reading to learn more about just why these undertones can make all the difference when recommending hair color options.
Warm Skin
Skin with warm undertones generally pairs best with warmer-toned hair colors that help bring out that beautiful lit-from-within glow. We recommend buttery or gold beige tones to complement blondes, as well as golden copper hues and warm caramel or butterscotch shades for brunettes. For clients seeking rainbow-inspired colors, try experimenting with rose gold, apricot, or coral shades.
On the other hand, if you have a client who wants to try to balance the natural warmth in their skin, you can also try a slightly cooler color, such as Revlonissimo Colorsmetique™ Color & Care in 8.13 if you want to go up to the level of a blond, or  5.14 for a rich medium brown.
Cool Skin
Skin with cool undertones works best with ultra-flattering cool colors, such as a bold platinum blonde, beige blonde, cool red, dark chocolate, merlot, or baby taupe blonde. You can even try a bright shade of blue, purple, or green for your more daring clients! Purple shampoos are a must when working with cooler-toned colors, such as platinum blonde. Our RE/START COLOR Strengthening Purple Cleanser, Eksperience™ Color Protection Blonde & Grey Hair Cleanser, and Pro You™ The Toner Neutralizing Shampoo are all delicate yet effective purple shampoo formulas that make excellent choices for neutralizing yellow tones from the first application.
Alternately, if your client is set on adding a bit of warmth to their cool-toned skin, you can try using blonde shades with a golden touch or bolder reddish-browns like Revlonissimo Colorsmetique™ Color & Care in 7.43. You can even add a bit of balayage in a shade that flatters the client's skin tone for a flawless result.
Neutral Skin
Skin with a neutral undertone has a great deal of flexibility when it comes to choosing the best color option. This means that you can experiment with just about any shade of blonde, brunette, or red, and pull it off effortlessly. Whether it's a neutral brunette color or a vivid orchid pink, neutral-toned skin offers endless possibilities for creativity and self-expression.
As one idea for these types of clients, you can try playing with cooler shades of brown, such as Revlonissimo Colorsmetique™ Color & Care in 6.13 or with 5.12 to help make their complexion glow like never before.
Ver esta publicación en Instagram
What's the Best Hair Color for Each Eye Color?
Yet another factor to consider how to know what hair color suits your clients is the eye color. Similar to skin tone, it's now possible to pair any hair color and eye color with the right toning products and modern coloring technology. However, there are definitely a few combinations that you might want to recommend to really make your client's beautiful eyes pop! Read on to discover some of these perfect combinations:
Brown or Hazel Eyes
Brown and hazel-eyed beauties deserve a stunning color shade that allows their gorgeous eyes to take center stage. These two stunning neutral eye colors can be paired with a wide range of hair shades, such as a rich golden brown, ash blonde, mahogany, or chestnut. We also recommend trying honey blonde or reddish-brown copper shades on clients with lighter-hued brown or hazel eyes. To achieve this ideal pairing, you can use Revlonissimo Colorsmetique™ Color & Care in 6.46 for an enviable final effect.
Blue Eyes
There are so many ways to help highlight your client's beautiful blue-colored eyes, whether it's by creating a stunning contrast with darker shades or adding some soft highlights to your client's hair. One flattering and bold color option for those with blue eyes is a cool-toned platinum blonde. Additionally, this eye color also pairs well with a lightened ombré or balayage style that delivers a subtle, sun-kissed glow. Strawberry blonde, deep burgundy, and rich espresso shades are additional color options for blue-eyed clients that are sure to be a smash hit.
Green Eyes
For clients with captivating green eyes, the right hair color can make their look really shine. You can recommend shades from a chocolate brown to an auburn, rich butterscotch, or a truly eye-catching black color. As one idea to help get you started, try creating an 8.4 base using Revlonissimo Colorsmetique™ Color & Care, add some highlights by hand or with a comb at the front, and color the hair with Color Excel Gloss by Revlonissimo™ in .052 for an unforgettable look.
Ver esta publicación en Instagram
How to know what hair color suits your clients?
The hair color that you ultimately choose for your clients will be based on a combination of their preferences, your expertise, and the ideal shade for their skin tone and eye color. If you're still struggling to choose the right color for your clients, we recommend going back to basics by trying to reproduce the vibrant shade they had in childhood: ultra-luminous, natural, and pre-color loss.
No matter which hair color you recommend, you'll want to ensure your client's color continues to look vibrant for as long as possible by using the right color products. To learn more, discover our best hair dye products for a healthy hair look.