What Hairstyle Suits Me? How to Answer When a Client Asks This Question
What hairstyle suits me? I'm sure that stylists can relate to trying the mirror trick. Back when we got that first consultation sheet during training school that showed us a variety of face shapes drawn on a sheet of paper. We then proceeded to pull our hair back and try to work out which face shape we had. That's when we began to learn that, in hairdressing, the one-size fits all model doesn't apply. But back to today! Do you feel you can confidently answer if your client asks, what hairstyle suits me?
Determining the Face Shape of Your Customer
Do you know what hairstyles work best for your clients oval, diamond, rectangle, heart, round or square shaped faces? Just to make it a tad more difficult, did you know that these face shapes can also blend and become a combination of the main ones shown in the image below?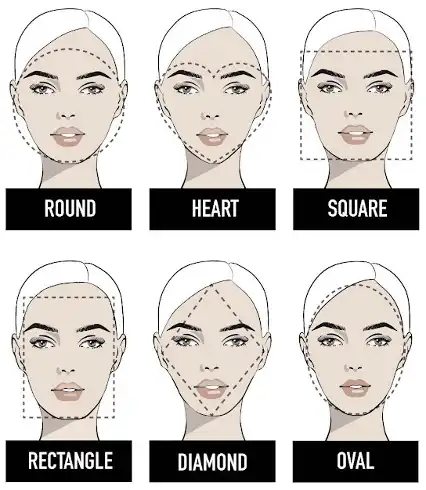 It may not feel important to your client and, as stylists, we tend to not even mention their face shape to them during their consultation! However, knowing how to identify your client's face shape is a key part of ensuring that the haircut and color technique you choose to proceed with will highlight their best features and make them look amazing! It is key to advise the client and assess whether it is possible to obtain the result they initially expect. Especially if they ask,  what hairstyle suits me?
If their face shape is not the same as the picture they bring in as a reference, their finished look will also be extremely different. You can use this picture to create a look that flatters the client by adapting it to them and highlighting key areas. So, no matter your experience levels, let's get back to basics and discover the best way to determine the face shape of your client!
How to Find Your Face Shape?
Tie your hair back so you can see your entire face.
Draw around your reflection in the mirror, leaving out the ears, using non-permanent marker or even lipstick! Your client can also take a selfie and draw the outline of her face directly on her mobile phone with the picture.
Consider the angles and contours of the face to see whether they are prominent, soft or sharp.
Remember that not all of your clients will feel confident with this process. You can always learn these tricks and then use them to guide you to do the process by eye.
If you want to be technical, you can use a tape measure or your cutting comb if it has inches as a guide measurement on the side
Measure the four vital distances of the face:
Forehead width: measure the distance across the forehead from hairline to hairline
Cheekbone width: measure from the outer corner of one eye to the other.
Jawline width: measure the distance along the side of the jawline. Go from the base of the ear to the middle of the chin and multiply that number by two.
Face length: measure from the center of the hairline to the tip of the chin.
Now that you have followed the above methods to determine your face shape, we can look at the styles that suit each of them.
Hairstyles According to Face Shape and Characteristics
Hairstyles for Oval Faces
A tall forehead
The cheekbones are prominent as they are the broadest part of the face
A round jaw or chin
The oval face shape is often recognized as the most desired, since the proportions tend to be more equal in ratio. For this face shape, you can recommend a simple center part with any length or style as this face shape is already balanced.
If your client has an oval face and asks what hairstyle suits them, opt for a very short crop that really shows off the face or a pixie haircut. A good tip to help frame an oval face shape is to utilize the curtain bang trend and play with the length and thickness. These can work beautifully to highlight the cheekbones and draw the eyes away from the forehead area if it is particularly prominent.
Ver esta publicación en Instagram
Hairstyles for Diamond Faces
An angular version of the oval face
known to have a prominent bone structure
The length of the face is about the same as the width
Narrow forehead
Wide cheekbones
A pointed or angular chin
The most flattering hairstyles to suit a diamond face are angled to give proportion! Think of a shorter style like a crop with a longer fringe. If your client prefers a longer style, a lob look or shoulder reaching locks that are cut to a side part also work well.
Ver esta publicación en Instagram
Hairstyles for Rectangular Faces
The length is longer than the width of the face
Forehead, cheekbones, and jaw are the same width apart
Often referred to as oblong
Chin has a slight curve
An air dried or natural textured bob looks fantastic with a rectangle face shape. Keeping fullness and volume from the ears up and on the sides helps create visual balance. We recommend chin length bobs, soft waves, and face framing layers.
Ver esta publicación en Instagram
Hairstyles for Heart-Shaped Faces
A heart-shaped face has a broad forehead and cheekbones
The length of the face is longer than the width
Narrow jawline and pointy chin
A widow's peak
Having layers put through any length will soften the chin slightly while highlighting the defined cheek bone structure. If a client with a heart-shaped face asks what hairstyle suits them, we recommend long layers that end just below the chin or a wavy bob that suits below the chin. These are perfect for a heart-shaped face. This face shape also looks great with side-swept bangs or a side parting.
Ver esta publicación en Instagram
Hairstyles for Round Faces
The width and length of the face are equal
A round face has few to no angles
The cheekbones are the broadest part of the face
A rounded jawline with very subtle angles
The forehead is rounded at the hairline
If you have a round face shape, light framing around the face or a side fringe/part softens the prominent curves of the face and brings attention to the eyes. A  longer layered or curly cut works well with this look as it draws the eye downwards.
Ver esta publicación en Instagram
Hairstyles for Square Faces
The length and width of the face are equal
The edges are angular and defined
Classic styles suit this face shape best.
Sharp, angular jawline.
Hairstyles that soften corners of the base and are fuller at the sides work really well for square faces. Think shags, side swept bangs, rounded haircuts and long layers. A strong fringe or layers at the jawline are not recommended but softer fringes and curly hair with texture work well.
Ver esta publicación en Instagram
It's important to remember that the right haircut and color placement can have a dramatic effect when it comes to highlighting or drawing the eye away from areas of your client's face.
Stand out with the Helix Hair Color Consultation and discover how to create a personalized client consultation experience, which will help you assess the exact needs of each client and create a strategy that will fulfill your client's desired style by offering an added value service.
You can get all the products you need at our online store, Revlon Pro Shop. In addition, you can connect to our online educational platform, #AlwaysOn (for customers only), where our professionals will teach you new techniques and help you perfect those you already know. Boost your reputation, and increase revenue, loyalty and referrals. Best of all, ensure that you can always answer with confidence when a client asks, what hairstyle suits me?