Wet and Sleek Look Hairstyles: How to Make Your Hair Shine
Understanding the Wet and Sleek Look
The wet and sleek look is a trendy and edgy hairstyle that has taken the fashion and beauty world by storm. It's a polished style that mimics the appearance of wet hair, giving a shiny and glistening effect. On the catwalk, fashion powerhouses showed us how to rock this style at any hair length and now it's time to recreate the look for your clients!
Whether they prefer a sleek center part, a daring deep side part, flowing locks, or a textured masterpiece, the wet hairstyle look knows no bounds. Its versatility allows you to effortlessly transition your clients from a daytime look to an evening showstopper. The best part? This trend is suitable for all hair types, so everyone can join in on the glossy hair revolution. If you're looking to rock this stunning wet hairstyle then read on as we embrace the "so fresh, so clean" mantra and show you the process!
Ver esta publicación en Instagram
Preparing the Hair
Before diving into the wet hairstyle process, it's crucial to prepare the hair properly. Start by washing and conditioning the hair with hydrating products that will enhance wet hair's natural shine. We recommend the Orofluido™ range. Towel dry gently to approximately 60%. You want to remove excess moisture leaving the hair slightly damp but not dripping wet. This will allow you to add your chosen care and styling product without it becoming diluted.
Product Selection and Application
Choosing the right styling products is essential. Does your client want a soft sheen or to achieve a super soaked effect? If it's the latter, you will need to apply a generous amount of Style Masters™ Creator Defining Gel™ or try the Style Masters™ Double or Nothing Endless Control™ (for that editorial wet hairstyle look for a shoot, you'll need LOTS of it).
Opting for a high-quality styling gel or pomade provides a strong hold and a wet finish that will also add hydration to the hair. For a softer finish, a leave-in conditioner or simply smoothing down the hairline edges will be sufficient. It will also give the hair an extra day or two between washes! The application will depend on your chosen style but our pro tip is to start by applying a small amount of product evenly throughout the hair focusing on the sections you want to look sleek. Then reapply more throughout the day when required!
Ver esta publicación en Instagram
Styling Techniques
To achieve the sleek wet hairstyle basics, simply apply your chosen product, such as the Style Masters™ Double or Nothing Endless Control™, and distribute it evenly throughout the hair. Comb the hair back by following the natural direction of your clients hair growth. Use a fine-toothed comb or a styling brush to smooth out any tangles and to ensure a sleek finish. For a more structured look, you can create a deep side or center part, depending on your client's preference and face shape. While the classic wet and sleek look is stunning on its own, don't be afraid to get creative! Consider adding braids, crimps, and twists to your ultra shiny hair for added texture and dimension.
Ver esta publicación en Instagram
Sculpted Waves: Instead of combing the hair straight back, consider creating sculpted finger waves for added texture and movement. Use a wide-toothed comb or your fingers to gently shape the hair into soft, undulating waves that flow elegantly. This technique adds a modern twist to the wet hairstyle look.
Ver esta publicación en Instagram
For a sleek and sophisticated variation, gather the hair into a slicked back ponytail, ensuring it remains close to the scalp. Use a fine-toothed comb and a styling gel to slick back the hair, making it appear ultra-smooth and polished. Secure the ponytail with an elegant ribbon or neatly tied scarf around the base for a chic finish. To make the look a touch more wearable, you can incorporate the wet look at the roots and add texture to the ends.
Ver esta publicación en Instagram
Braided Accents: Enhance the wet and sleek look by incorporating braided accents into the style. Create small braids along the hairline or weave intricate braids throughout the hair to create striking contrast. These braided details add an element of artistry and elevate the overall look, making it a true fashion statement.
Ver esta publicación en Instagram
Geometric Partings: For a bold and edgy interpretation, experiment with geometric partings. Create clean, precise lines using a pin tail comb or styling tool to section the hair into geometric shapes, such as triangles, squares, or diamond patterns. This avant-garde technique gives the wet hairstyle a runway-worthy appeal.
Hair Accessories: Hair accessories can be the perfect finishing touch to elevate the wet and sleek hairstyle. Consider adding metallic hair pins, embellished headbands, or statement hair clips to complement the polished look. These accessories not only add a fashionable flair but also provide an opportunity to personalize the style according to your client's unique taste.
Ver esta publicación en Instagram
Finishing Touches: Once you've styled the hair to perfection, it's time to add the finishing touches. Apply a spritz of Style Masters™ Must-Haves Photo Finisher™ to add extra hold, help block humidity, and enhance the glossy effect for up to 24 hours.
Maintenance and Longevity: To maintain the wet and sleek look throughout the day, give your clients product recommendations for touch-ups. This way, they can gently reapply and smooth down any stray hairs or hairline areas that may have lost their shine. An updo is the best choice for clients because they can avoid touching their hair and prevent the style from losing its sleekness.
Variation and Creativity: While the classic wet and sleek look is stunning on its own, don't be afraid to get creative and experiment with variations. Consider adding braids or twists to the wet hairstyle for added texture and dimension. But remember that simple looks can often be the most impressive! Try a simple sleek bun and then add  interesting accessories to elevate the style and make it stand out.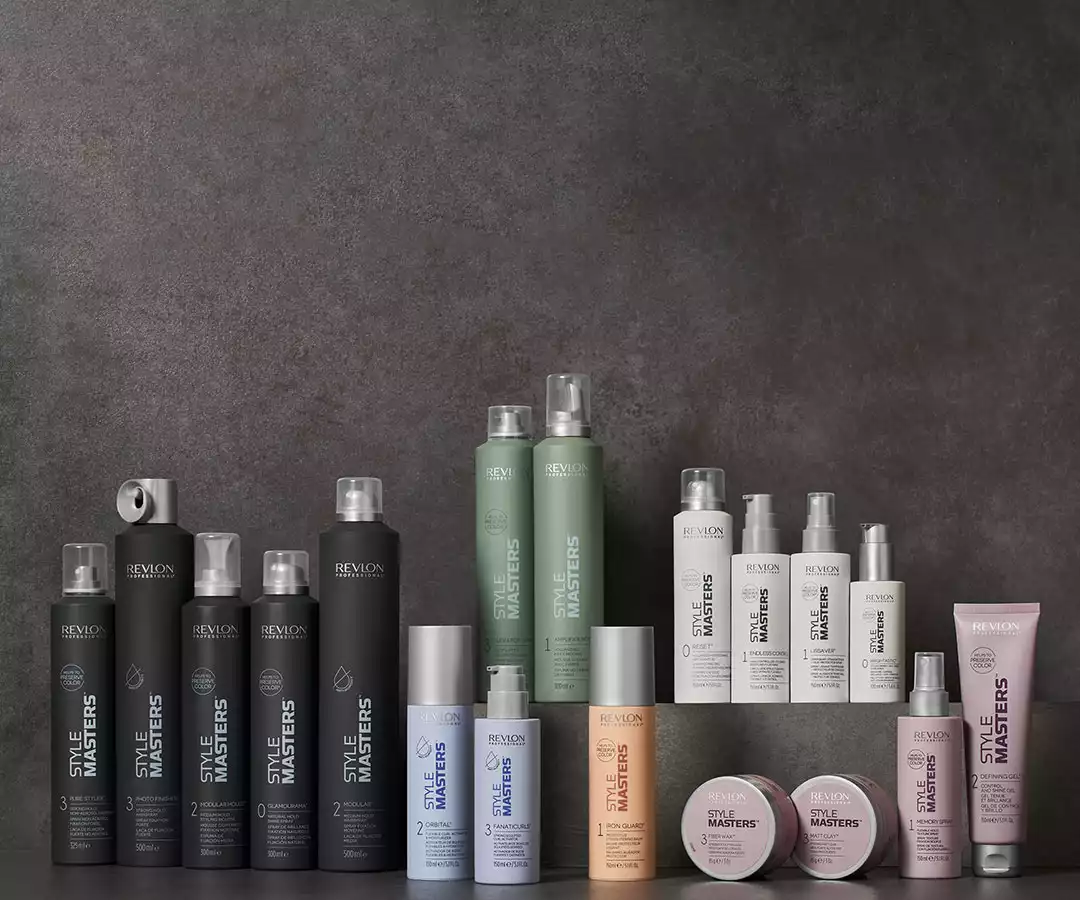 Ultra glossy and impossibly shiny wet-look hairstyles are a must-have trend for 2023 and beyond, so get practicing! For more trends and styling tips that will empower your salon, check out #AlwaysOn (for clients only). You can sign up by leaving us your contact details. You can also stock up on our Stylemasters™ range at the RevlonProshop to create infinite looks and maintain the perfect wet hairstyle.
*Cover photo by Rafael Bueno peluqueros.