NEUTRALIZE AND TONE BLONDE HAIR AT HOME WITH RE/START COLOR
It is no secret that Color Excel Gloss by Revlonissimo™ is the preferred line by many hairstylists for neutralizing and toning blondes at the salon. However, to maintain the shade flawless and fresh as the same day your client left your hair salon might seem a complicated task, but we have made it easier than ever with our at home haircare routine. Suggest your clients to complement your service with the at home routine that best suits their needs: Revlon has key product ranges from the Eksperience™ and Nutricolor Filters™ lines that really nourish colored hair. However, for this article, we will delve more closely into RE/START™ and how it can achieve a long-lasting blonde look.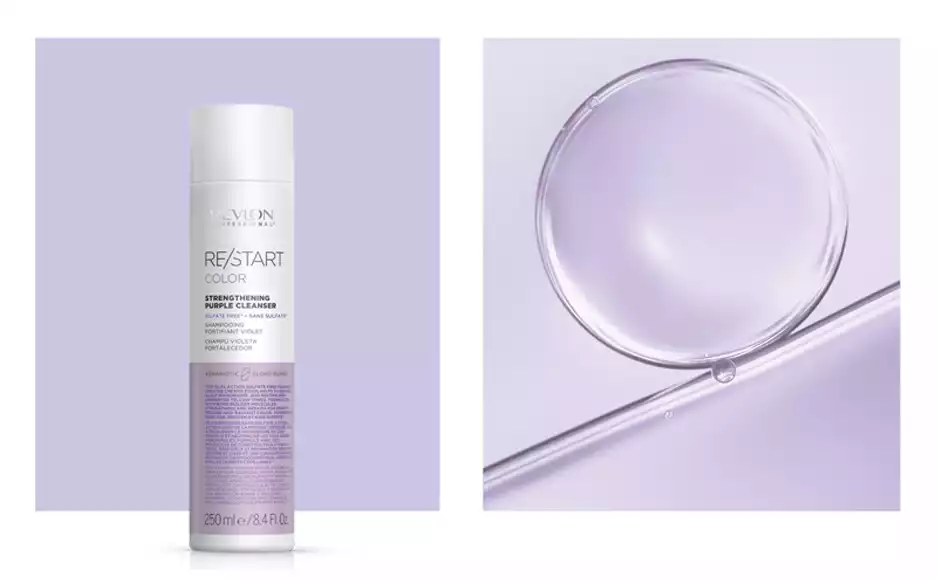 Preserve blonde shades from roots to tips with the RE/START COLOR range and its new Strengthening Purple Cleanser for blonde, bleached, white and highlighted hair. It is formulated with our exclusive Kerabiotic BLOND GUARD Technology and has a dual-action approach for a balanced scalp and beautiful hair to help:
balance the scalp microbiome
neutralize unwanted yellow tones
strengthen hair
restore and recover bleached hair
reduce hair breakage
improve the color vibrancy and shine
Need a tip? We suggest you mention some of these advantages, such as stronger hair or color improvement to your clients if they are considering the use of RE/START products at home between services. This way, they can look after their hair and scalp while maintaining color for longer.
The new RE/START Color Strengthening Purple Cleanser comprises proven skincare ingredients that balance the scalp microbiome and help to soothe and protect the scalp. It also contains anti-yellow tones pigments that provide neutralization and beautify hair color. Its multifunctional ingredients such as the natural açaí extract rich in polyphenols, protects hair against oxidant agents, while the sulfate-free formula protects the hair color. In addition, its formulated with bond-building molecules to restore and recover bleached hair for softness and enhanced color shine. An efficient range to freshen up blonde hair that is POWERED BY SKINCARE. PROVEN BY HAIR EXPERTS™.
REVIVE BLONDE SHADES AT HOME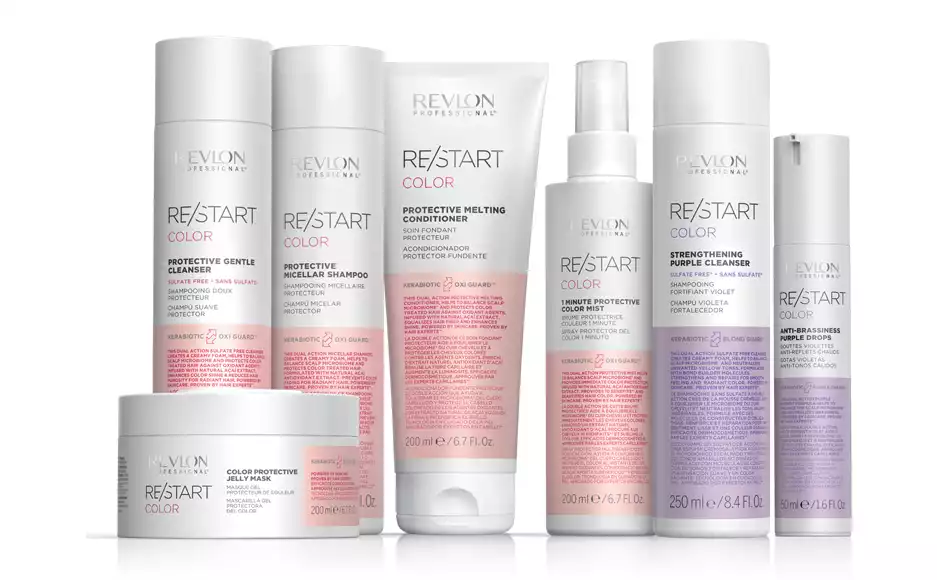 Discover the rest of the RE/START COLOR range, which protects, enhances and beautifies color treated hair for a long-lasting radiant color. With its exclusive Kerabiotic OXI-GUARD™ Technology, the RE/START COLOR range shields colored hair against external aggressors with anti-fading agents and porosity equalizers that protect your clients' color. The skincare ingredients incorporated in the formula help balance the scalp microbiome to soothe and protect it for beautiful hair from within. Reveal the definitive root-to-tips professional haircare.
It is time to press the RE/START button and recharge blonde shades with our RE/START Color range and its new Strengthening Purple Cleanser, the ideal at-home product that will enable your clients to maintain salon-quality hair color in between services.
RE/START.RETHINK HAIRCARE™.