Long Hairstyle Ideas for Long Curly Hair
People are showing off their curls more and more these days and we are here for it! But do you know how to get the best out of textured hair? There are so many different types of curls from a soft wave right to a springy coil. These beautiful textures require different levels of care and moisture and the way the hair is cut and styled makes a massive difference. That's why in this article we're going to tell you all about long curly hair.
Even if you are a straight or curly haired stylist, fear not! Every head of hair is different and it is important that we know how to work with it. Sit back and let us give you the tips to help empower you and build that confidence! Being a top stylist means always learning new things.
Ver esta publicación en Instagram
Essential Tips for Working with Long Curly Hair: Techniques for Cutting and Styling
First things first, getting the perfect haircut comes down to knowing how to identify the correct hair texture, movement pattern, and curl type. Take a look at the universal texture chart (UTC) and get comfortable with it! The chart is categorized by numbers which indicate the hair texture and letters that specify the movement pattern:
Type 1: Straight
A: Subtle
Type 2: Wavy
B: Medium
Type 3: Curly
C: Strong
Type 4: Coily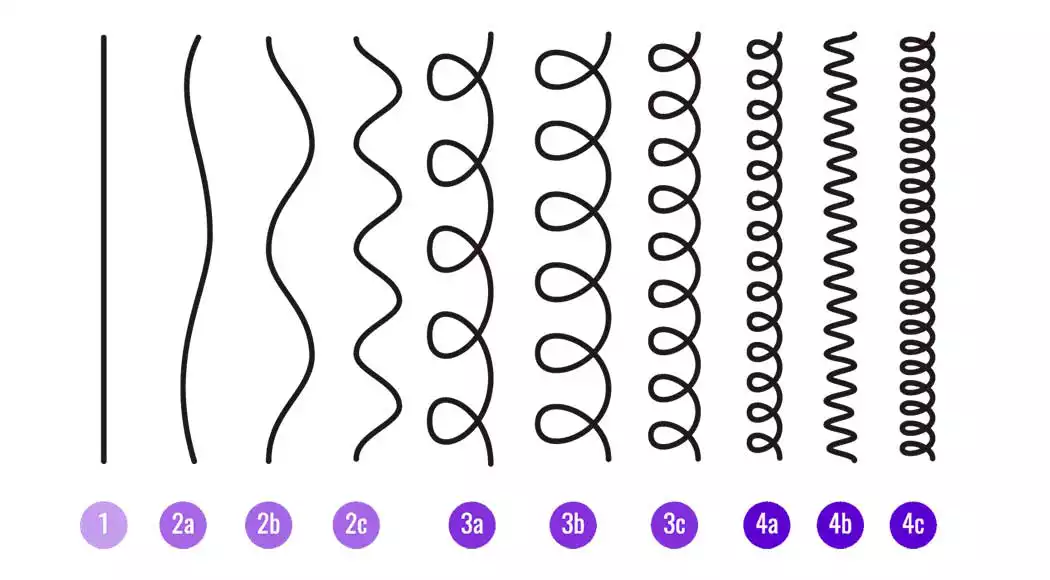 Now that you know the hair type, you can work on the best technique for long curly hair. Hair types 1-2C tend to be less curly and can also be smoother and finer, which is due to the hair being less porous. These hair types tend to react well with shorter layers and weight being removed through the mids and ends. Of course all haircuts are personal preference but if your clients want to encourage texture, volume, and movement then avoiding blunt lines will create the illusion of fullness and avoid those flat roots and bulky ends.
Ver esta publicación en Instagram
As a general rule, the base (perimeter) of the haircuts should be the thickest sections and the layers and shaping around the face should be textured and pointcut to highlight the clients features. You can accentuate key areas such as the eyes, cheekbones, and lips.
Smoother, less curly hair types work very well when it comes to bangs as these tend to be more manageable for the client. However, super curly bangs can also look very chic if they are cut and styled properly! Remember that super curly and coily hair will bounce up and look shorter when dry. Our pro tip for all curly girls (and guys) is to test cut a curl to see how much it springs! You may find that a dry hair cut and/or using little to no elevation will be your best bet until you feel more confident with the hair type.
All hair types can suit just about any haircut. The main thing is to ensure that the client is correctly consulted and that they get the haircut they expected. So consider the Curly Girl Method, use plenty of water if cutting the hair wet, and work with the curl pattern if texturizing. Follow that wave with your scissors and (this may be controversial) avoid thinners unless absolutely necessary. Straight hair should be cut after washing and conditioning as there is typically less volume than in curly hair.
Long Curly Hair with Layers: Creating Shape and Definition for Your Clients
Layers are used to create different lengths within the hair with the aim of creating a particular shape and style. Layers can be used to create movement, definition, volume, and texture for your clients. If the hair is particularly thick, layering can reduce weight and bulk in certain areas. This tends to be at the nape and crown of curly hair as the hair is at its thickest in these areas. Unlike straight hair, layering is best suited to being point cut rather than cut blunt. This avoids 'steps' forming in the haircut and also creates as much curl definition and movement as possible.
Textured hair likes to have space to move but often looks uneven in the weight department. You may see it looking or being referred to as 'triangular.' This tends to happen when it hasn't been texturized and looks flat at the crown and bulky towards the ends resulting in a pyramid shape. If the hair is finer, a shorter style will give it the most body.
For the best shape, make sure that you assess the hair and look through inspiration photos with your clients. Together you can decide on the best technique and cut to suit their hair type, texture, and length. You can also ensure that their hair condition is prioritized, especially if the hair is pre-lightened,  as textured hair needs to be cared for to ensure it is defined and frizz free. Even the best layering cannot compete with dry or damaged hair.
Ver esta publicación en Instagram
Protective Styling: Updos and Braids for Long Curly Hair
We all know that long hair can get in the way when it comes to trying to sleep but long curly hair in particular needs to be protected! This is due to the hair being more fragile. It needs 24/7 care such as avoiding using too much heat and keeping a consistent routine that is specific to the hair's needs which includes caring for the foundation, the scalp. This is a vital element on the road to beautiful hair.
Revlon Professional invites you to embrace your clients' curl personality and rethink textured hair care from the roots. Here are some protective, glamorous hairstyle ideas for your clients. There are so many variations to try and slight adjustments and accessories can instantly transform the look. We recommend creating a collage to show to your clients the most sought after looks and getting creative because daily styling is incredibly overrated.
Ver esta publicación en Instagram
The High Bun
This is a great protective style for curly hair because it keeps your strands off your face and away from potential damage. Plus it looks effortlessly elegant! Add some braids for extra style points.
The Pineapple Updo
This looks cool and has some edge. Add some hair accessories for a bit of extra glam. Leave a few curls out around the face and loosely bobby pin any strands for that 'messy bun' look.
Braids or Bantu Knots
These are the ultimate protective styling looks but can equally look perfect at a festival or fashion show! Add some brightness to this look with ribbons or a few strategic flashes of color.
To keep these looks in place night and day, we recommend  locking your look with Style Masters. We are also big fans of silk bonnets or a satin pillowcase for the extra glam sleep. These will help keep your hair looking perfect.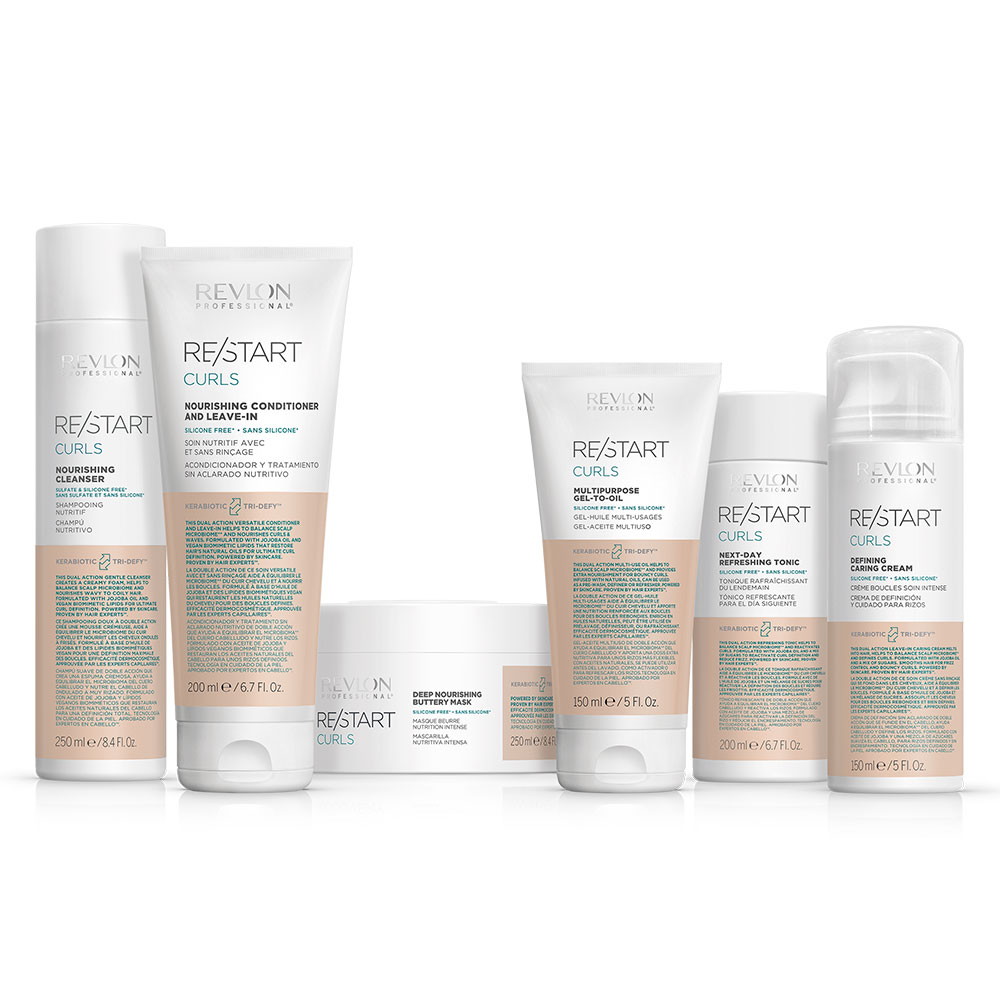 In Conclusion
Now that you have the styling and haircut pro tips to bring out the best of your clients texture, it's time to stock up on the ultimate range of products for wavy, curly, and coily hair. Head to our Revlon Pro Shop to order directly and discover this great range of products for wavy, curly, and coily hair to mix and match on your clients. For more inspiration, you can head to our 24/7 educational platform, Revlon Pro AlwaysOn, (available for clients only, so click the link to become one).