Discover an Augmented Color Reality™ with the New Revlonissimo Colorsmetique™
Is your clients' hair the best it can be? What if you could provide an even better professional hair color service with our new Revlonissimo Colorsmetique™ range? Discover its innovative combination of ingredients, its new texture, and a wider range or vibrant hair colors that will result in trendy and awe-inspiring looks for those attending your salon. If they are not too sure about the right hair color, you can suggest to them our professional hair dye range to help them find the ideal tone they didn't know they needed. Moreover, our products will not only bring out the best in your clients' hair, but also nourish and protect their locks so that the color improves coloration after coloration, achieving more care, more shine, and more vibrancy. The days of dull hair are over!
Professional Hair Dye Has Evolved for the Better
We develop our products using the latest scientific advances in dermatology, which has placed us at the head of hair coloring innovation: all our knowledge poured into a bottle to help you turn your clients' hair into an spectacular look. How do we achieve this? Our Revlonissimo Colorsmetique™ range has a new formula with our KER-HA  Complex™, which combines dermatologically-tested hair care ingredients with optimized dye penetration into the fibers, achieving the most sophisticated colors while keeping your clients' hair strands healthy.
As well as this improved formula, our professional hair color range has an innovative micellar emulsion with a creamy texture that is faster to mix, giving you more agility while preparing the dye, and less drip during its application. This consistency is achieved by mixing our vibrant hair dye range with Revlonissimo Colorsmetique™ creme peroxides, an exclusive product developed to work in tandem with our new color formulas; the result will be breathtaking!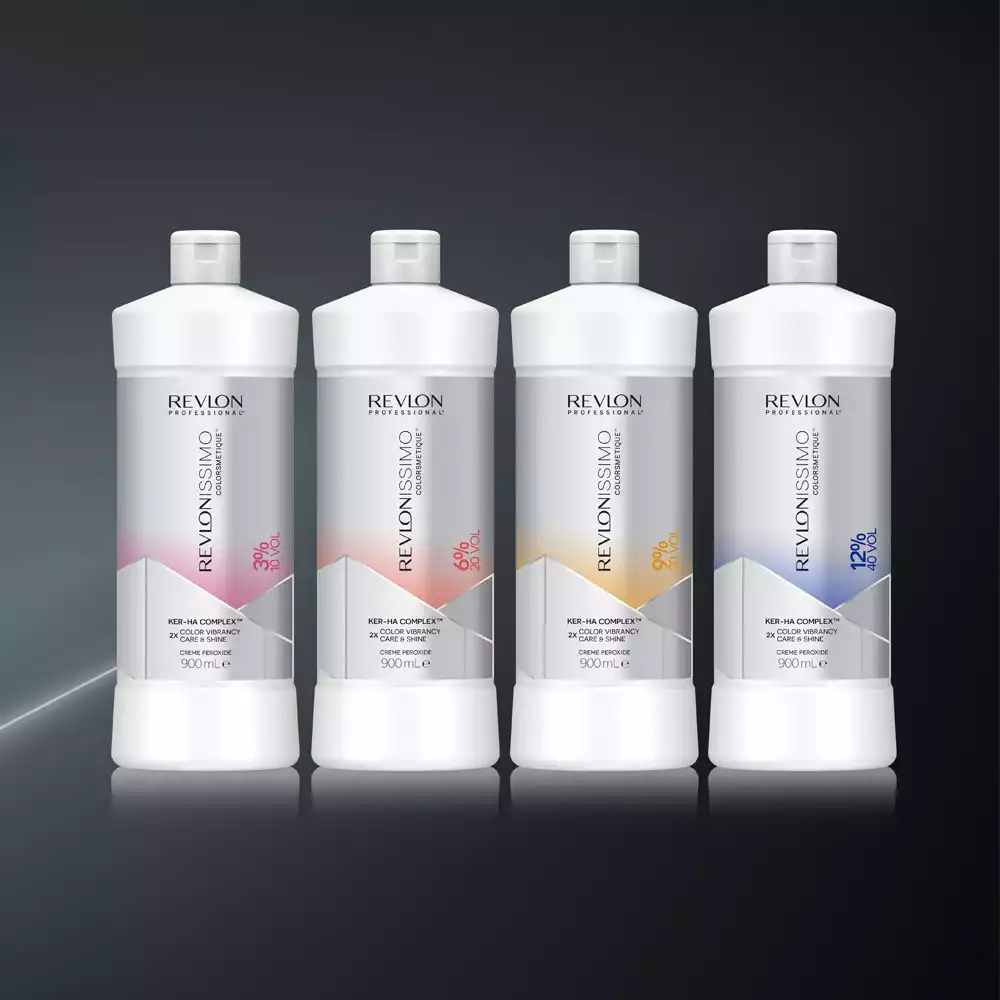 Revolutionize Professional Hair Color Combining Science and Beauty
Why is our new formula so innovative? We use a double approach, combining science and beauty to achieve high-end technology for your clients' professional hair color. Our expertise and the latest innovation in the industry have enabled us to improve our formulas for healthier, more sophisticated and more vibrant hair dye products, formulated as a hair mask, by using four innovative ingredients in our KER-HA Complex™. Bring an augmented color reality™ to your salon!
You might wonder what the four ingredients of our KER-HA Complex™ are and how they guarantee a precise color deposit while protecting the hair's integrity. Read on to find out more:
Hyaluronic acid: this well-known skin care element has rejuvenating and moisturizing properties. Hyaluronic acid hair products ensure a healthy and hydrated result, which is why this ingredient is a key component of our KER-HA Complex™.
Repairing phyto-keratin: this ingredient repairs any sustained damage by capturing free radicals with its blend of 3 plant-based amino acids that replicate the performance and benefits of regular keratin. They are what protects and fortifies the hair for a healthy and show-stopping color result.
Antioxidant molecule: it delays the oxidation process that enlarges dye molecules, making it harder for them to penetrate the hair shaft. The antioxidant molecule ensures the color is pushed more efficiently and deeply into the fiber for a long-lasting result with twice as much vibrancy.
Shine sealer: like a mirror, this ingredient reflects light. It wraps itself around the fibers and provides a smooth surface that will result in brilliant, shiny hair for your clients.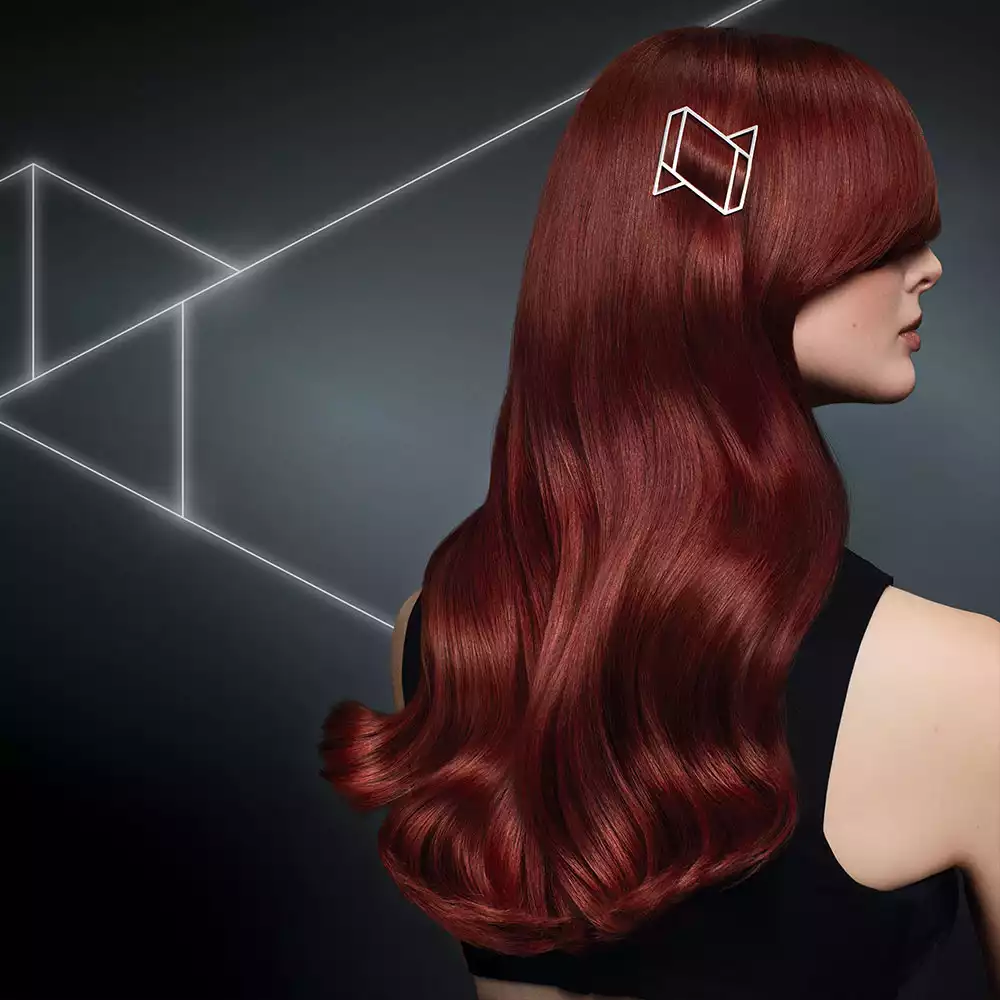 Hair Coloring Innovation That Will Attract More Clients to Your Salon
Unleash your creativity with the wide range of vibrant hair dye products by Revlonissimo Colorsmetique™ available at REVLONPROSHOP. Mix unforgettable colors and revolutionize your salon's services with 149 shades divided into 8 color families. The results will be true-to-tone, long-lasting and high-dimensional from roots to ends. Together with Revlonissimo Colorsmetique™ creme peroxides, you can customize color and meet the demands of each client, no matter their age, hair type, or percentage of gray strands; learn the latest techniques in our E-learning platform REVLONPROALWAYSON. If you are not a Revlon Professional® customer yet, contact your sales rep and schedule a visit to your salon to discover the new coloring range. Be up to the minute with our hair coloring innovation and create your new color masterpiece with Revlon Professional®.